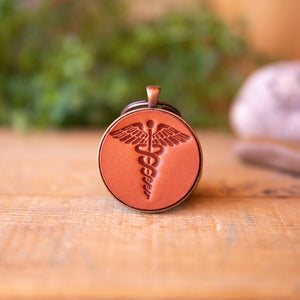 This leather keychain with caduceus stamped into it is the perfect gift for all those hard-working nurses you know. Show some love and get yours today. 
This keychain measures 1.5" round and comes in an antique copper finish with a 1" round key ring. It has been stamped with our custom made leather stamps into beautifully crafted USA local tannery leather from Wickett & Craig of America. 
USA made, USA proud. 
MATERIALS:
Chestnut Veg Tan Leather                                                                     
Antique Copper Pendant and Key Ring 
SIZING: 
1 1/2" x 1.7/8" plus the 1" Keyring

CARE
Brush clean with a dry cloth. The back of the pendant can be wiped with a damp cloth. This Chestnut Veg Tanned leather will patina some over time and take on a character of its own. 
Contact us with your custom stamp request. We'd be happy to work with you. 
https://lazy3leatherco.com/pages/contact