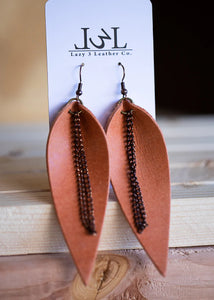 Simple yet impactful, in a unique leaf shape, these peach leather earrings feature copper chain detailing. They have been popular earring styles since we started offering leather earrings. 
These earrings are so lightweight you hardly know they are there! 
We make all our earrings in our workshop in Ivins Utah and cut everything we make from Full-grain leather hides.
These earrings have been finished with Sterling silver, 18K gold, or nickel-free earring hooks and hardware.