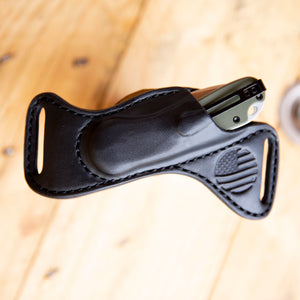 Make a Leather Bishops Scout Carry Sheath with us!  

Instructor: Todd and Lucy Duke
IG - @lazy3leatherco

Saturday, July 8th,2023
6-8:30 pm
at Lazy 3 Leather Co. Workshop in Ivins Utah

Class location:  95 E 675 S Ivins, UT 84738

$85 - per person
Supplies included!

Age 15+ recommended.


8 spots available per class
Class Description: In this one-session, 2 to 3-hour class, we will teach you how to make a leather knife sheath from start to finish.
Come and have a good experience, in a fun & creative environment.
When reserving your spot please choose from the options available below. 
If you are going to make a knife sheath, your knife will need to be no bigger than:
4" long (when folded), 1 1/8" wide, and 1/2" thick. 
Please leave any questions in the notes during checkout.
Cancellation Policy: 
Refunds for cancellations are credited in full if canceled 2 weeks before the day of the class. Classes will not be refunded after this time due to orders placed for materials for the class. "No shows" or late cancellations will not be refunded.
If for any reason the class is canceled by Lazy 3 Leather Co., we will notify you as soon as possible, and please a time to reschedule the class.
Please contact us with any other questions you may have.