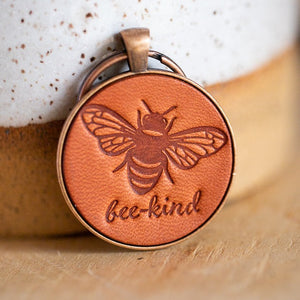 Bee-Kind
It is so important to be kind to ourselves and others around us.
Utah is the Beehive State. The pioneers who sacrificed to settled this desert wilderness did so with the desire to work together in unity, like a honey bee, and what an amazing job they did. I am grateful to be here in this beautiful flowering desert, to see the efforts of those who came before me and this stamped leather keychain is a reflection of that gratitude.
MATERIALS:
Chestnut Veg Tan Leather                                                   
Antique Copper Pendant and Keyring 
SIZING: 
1 1/2" x 1.7/8" plus the 1" Keyring

CARE
Brush clean with a dry cloth. The back of the pendant can be wiped with a damp cloth. This Chestnut Veg Tanned leather will patina some over time and take on a character of its own. 
CONTACT US with your custom stamp request. We'd be happy to work with you.