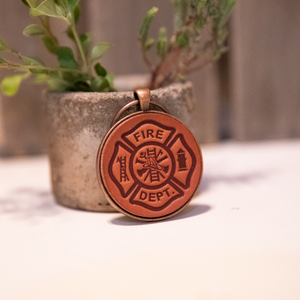 Our leather keychains have being somewhat of a work in progress. It started with a simple leather blank some hand stamping letters and some stain. I wanted to make a thoughtful gift for my wife for Valentine's Day and she loved it. (Last image is the gift I gave her 5 years ago ♡) 
Now we are making our own leather stamps, and have added a more professional touch with a metal pendant and key rings. We are very happy with the results and know you will be too. 
Contact us with your custom stamp request. We'd be happy to work with you. 
https://lazy3leatherco.com/pages/contact
MATERIALS:
Veg Tan Leather
Antique Copper Pendant and Key Ring 
SIZING: 
1 1/2" x 1.7/8" plus the 1" Key ring

CARE
Brush clean with a dry cloth. The back of the pendant can be wiped with a damp cloth. This Chestnut Veg Tanned leather will patina some over time and take on a character of its own.