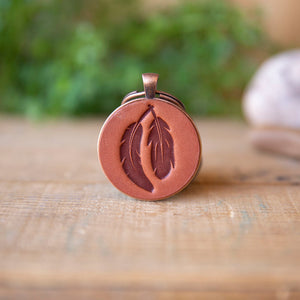 I just love this Feathers Keychain. This style of art reminds me of the First Nations art I used to see as a child growing up in Canada. I love the look of these feathers, the simplicity of them, and the way this keychain feels when you rub over it. Stamped leather is the best!
Our keychains have been handcrafted in our shop in Ivins Utah. We are a family-run business.
MATERIALS:

Wickett & Craig Chestnut Veg Tan Leather                                                                   
 Antique Copper Pendant and Key Ring 
SIZING: 
1 1/2" x 1.7/8" plus the 1" Keyring

CARE
Brush clean with a dry cloth. The back of the pendant can be wiped with a damp cloth. This Chestnut Veg Tanned leather will patina some over time and take on a character of its own. 
CONTACT US with your custom stamp request. We'd be happy to work with you.