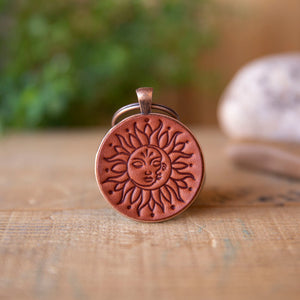 Sun and Moon keychain. This keychain stamp was inspired by a sun/moon design I saw once, that I just loved. We hope you love it too. It has been a favorite and best seller for the past 2 years. 
Our keychains have been handcrafted in our shop in Ivins Utah. We are a family-run business.
MATERIALS:

Chestnut Veg Tan Leather
Antique Copper Pendant and Key Ring 
SIZING: 
1 1/2" x 1 7/8" plus the 1" Keyring

CARE
Brush clean with a dry cloth. The back of the pendant can be wiped with a damp cloth. This Chestnut Veg Tanned leather will patina some over time and take on a character of its own. 
Contact us with your custom stamp request. We'd be happy to work with you.